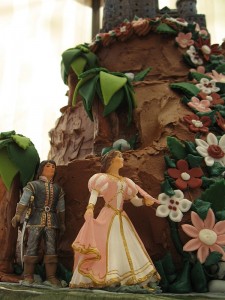 It had been a busy week, and I was tired Saturday night. I just wanted to go to bed.
Instead, I found the energy to pack a bag and drive 90 minutes to see a good friend and her fiancée. We stayed up to nearly 2 AM, talking and catching up. No big deal under normal circumstances, but the wedding was to happen at two o'clock the next afternoon. In the woods. Behind their house.
Everyone was tired Sunday morning, but a myriad of minutia clamored for attention.  Some other friends and I scrambled around trying to contain the chaos. The caterer was late with the food. The decorative arch had not been set up. We needed extra extension cords for the sound system. The photographer was an hour late. The cake didn't arrive until 1:30. The dress arrived at 1:40.
It was crazy, but fun.
The ceremony started almost an hour late, but the wedding was beautiful, and the reception was pleasant.
Late in the afternoon, after a full stomach and two glasses of the groom's home made mead, I was wearing out.
I could excuse myself, make the long drive home, and get to bed for an early meeting the next morning. Surely they would understand…
Maybe I'll stay just a few more minutes, I thought.
Moments later, guests started getting up to leave, and the magic began.
There were things to do, and I found a purpose!
Elderly parents needed help getting to cars. Leftovers had to be put away. My tie came off and I rolled up my sleeves. Still in dress slacks and shoes, we  folded up tables and chairs, dismantled the big tent, and returned the sound system to the house. Working alongside other guests, strangers became friends.
The big cleanup was done, and we sat down to talk and relax. It was nearly 8, and I still had a long drive. Maybe I should go…
I'll stay just a few more minutes, I thought.
I listened and laughed. I made a new friend. Another gave me a hint to make my business easier. The party moved inside to escape the mosquitos. It was a logical time to leave….
I'll stay just a few more minutes, I thought.
I stayed, and we joked and laughed harder and longer than I had in weeks. I got to dance with a darling 3-year-old girl. We shared the pictures that we had taken throughout the day, and laughed even more.
It was nearly 10:30 when I put the key in the ignition. I arrived home at midnight with a smile on my face and joy in my heart.
What an impact those few minutes made.